Images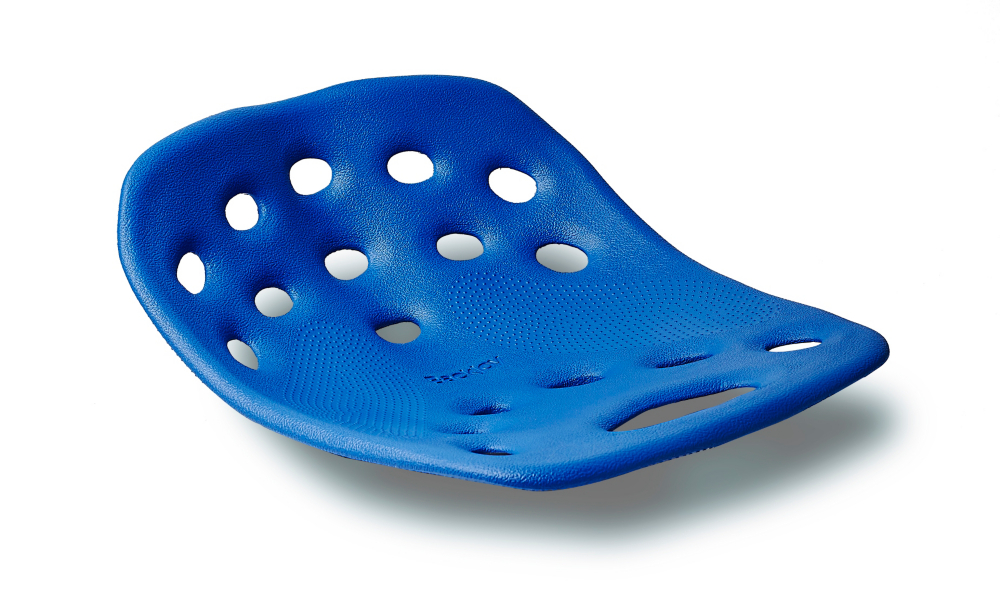 BackJoy®
SitSmart
Posture Plus
Details
http://www.backjoy.com/sitsmart-posture-plus/BJPPS002.html
Product Actions
Additional Information
DESCRIPTION
BackJoy SitSmart is an innovative sitting device that naturally relieves back pain by optimizing your sitting posture.
The Posture Plus style features comfortable, durable foam on the top that's completely weatherproof for indoor or outdoor use. Safe and effective to use, it automatically positions your body in correct posture for all-day comfort. Its patented design works by tilting your hips upright and comfortably "floating" your spine over the seat.
• Natural back pain relief
• Easy-to-use design for correct posture
• Tilts the pelvis upright to engage core muscles
• Maximum comfort for long periods of sitting
• Works in any seat—office, car, home, or outdoors
RECOMMENDED USE
FAQS
The only difference between the various SitSmart models is the surface material that covers the seat. The SitSmart Posture Plus style is covered with a waterproof EVA foam that's soft, comfortable and durable. It comes in a variety of fun color options.

Regardless of which style you choose, your SitSmart will position your body in correct posture for all-day comfort.
SitSmart is designed for adults 100 to 300 lbs. SitSmart Mini is made for children and teens 70 to 120 lbs.

If you are an adult deciding between SitSmart and SitSmart Mini, we highly recommend choosing the standard SitSmart size. Adults with extremely petite frames and shorter statures may choose the SitSmart Mini.
Your SitSmart seat must be smaller than your buttocks in order to work properly, meaning your SitSmart will still be effective even if your buttocks are slightly larger than the product.

SitSmart standard size is designed for adults 100 to 300 lbs. Because SitSmart is designed to cup the pelvis itself, not the soft tissue around it, the standard SitSmart size fits nearly all adults regardless of weight or height.

First, make sure that you are sitting on top of your SitSmart and not using it propped up behind you. Changing your sitting posture can cause temporary discomfort – like going to the gym for the first time. Your body may need time to adjust and relax into the new posture that your SitSmart provides.
Yes! SitSmart works just as effectively on soft couches and car seats. It is important to note that when you sit down into the soft cushions of a couch, your gluteus muscles can stretch and flatten even more than they do when you sit on a hard chair. Such stretching and flattening can aggravate back pain, so it's definitely beneficial to use your SitSmart while relaxing on the couch.
Many users experience immediate relief, and some require several weeks of regular use to feel the benefits of their SitSmart. If you don't feel any change when you sit on your SitSmart, make sure you have closely followed the sitting instructions and your buttocks muscles are firmly cupped.
SitSmart can work hand-in-hand with your therapeutic regimen. SitSmart will not cure your back pain, but it will relieve the pressures and strains caused by sitting that aggravate your underlying condition so you can be comfortable.

Here are some of the conditions that SitSmart may help relieve:

• Low back pain
• Herniated discs
• Degenerated discs
• Compressed discs
• Back injuries
• Hip injuries
• Neck/cervical pain
• Sciatica
• Coccyxdinia (sore tail bone)
• Scoliosis
• Spinal stenosis
• Osteoporosis

Wash with mild soap and water or standard upholstery cleaner. Do not put in laundry machines or dishwashers.
ENDORSEMENTS

SitSmart User Reviews
So far so good
Barry - 09/05/2014

I have had sciatica for 10+ yrs and sitting is the worst! This seems to help me sit more comfortably and longer.
A programmer's best friend
Sam Galope - 01/25/2015

As a person who spends at least 8 hours a day sitting, I am no stranger to lower back pain. And like any "desk hero," I have spent a lot on ergonomic chairs, memory foams, and other back support devices. At one time, I even decided to work exclusively on my feet for months just to correct posture and thus address my back issues. Without a doubt, that worked but it was very hard on my knees. This time I think I hit the jackpot. BackJoy delivers what it promises. It really does reduce back pain, improves posture, and just makes sitting really pleasurable - even on bare wooden chairs. I should know, I have been sitting on BackJoy atop a hardwood chair for the last 12 hours. And I feel great! I am so happy with this product.
Portable pain relief!
Barbara - 02/03/2015

The SitSmart Posture Plus is WONDERFUL! Its very comfortable and gives instant relief to the sciatica and low back pain I've had for a long time. THANK YOU for this product! It's a "BFF" for sure!
SitSmart
Andy - 12/23/2014

The SitSmart has greatly improved my sitting posture. I never had back pain but I wanted to prevent getting back pain and improve my posture. I like this product very much.
Time for a replacement
Teddy - 11/29/2014

My SitSmart is great and I've used it for 6 or 7 years now. It's become wrinkled (like the rest of me). Time for a replacement.
BackJoy rocks!
Soulshaker - 11/23/2014

I need a firm surface to sit on, sitting on any cushions hurts my back. I mainly use this in the car. Backjoy works great for me.
Would not sit down without it
Gordy - 04/12/2015

I bought mine in July 2010 and use it every day. For the last 5 years it has brought my back into alignment and un-slouched me. At my age of 70, I need all the help I can get. With this SitSmart, you can can chuck your pain medicine away -- I did.
International relief
Marco Campos - 6/26/2015

I hurt my back during a boat tour. I hurt my L3 and L4 vertebrae when diving off the boat. I have had the SitSmart for one week and have been using it while driving, at work and while I'm at home. I feel less stress on my back and, together with few therapy sessions, can consider working out again soon!!! Thanks!
Comfortable
W - 6/16/2015

The SitSmart product I bought was very comfortable, and it also helped my posture. Since I sit on chairs for long periods of time, it helps me sit without experiencing back pain.
A product that is worth the investment
Thad - 8/2/2015

Having owned a BackJoy posture seat for over 15 years, I still would recommend anyone to make the investment if they are looking for relief from sitting, which affects your posture and back alignment issues. BackJoy is a product that stands by what it can do for you; it's something that, once you buy, you will always use whenever you sit or drive. I have them in my vehicles and in my home, it's the best.
Good for posture
Beau - 8/2/2015

So far I have only used my SitSmart in my office chair. I have not had a chance to use it in the car on a trip. It does improve my posture while in my chair. So far, I am pleased with the purchase.
SitSmart Posture Plus
Burton - 8/2/2015

This has been a great assist for me, both in my car and behind my office desk.
Years of lower back pain gone
John - 8/2/2015

I suffered from years of lower back pain that always came from sitting on soft cushions. Pressure on my tail bone sent a dull ache that wrapped all the way around my abdomen. Long driving trips were agony. Now I keep a SitSmart in my car and one in the house and I rarely have any issues. Worked better than anything else I ever tried, including my inversion table.
Lifesaver
Lo - 8/2/2015

I work 8-12 hrs a day and I haven't whined about my back hurting since I started using this! I used to suffer from severe back pain and it would hurt to sit even for just 5-10 minutes. BackJoy SitSmart Posture Plus does exactly what it says it does. I got my whole family and coworkers using this and they all love it. When you first sit on it, you won't feel any difference. The first time I sat on it, I was like hmm... well this does nothing... BUT! Once you start using this, sitting without it will feel so uncomfortable and you will notice the big difference it makes on your back and ability to sit for a long period of time. I'm so glad I started using this and I would definitely recommend this to anyone and everyone!
Improves posture
Lola - 8/2/2015

I love my SitSmart because even when I sit in a chair without it or stand I find that my spine aligns automatically! I think it's smart to have more than one so you can keep one in your home and one in your car, that way you don't have to remember to take it with you!!
I love this product!
Kathy - 8/2/2015

I am so happy I made this purchase! It has helped me both sitting at home and driving or sitting in the car. I won't leave home without it! I have spinal stenosis, hip issues, and a herniated disc. I am going to purchase a second SitSmart for the car. This has truly made a big difference in my life. I showed it to my doctor and he approved of its use.
Great purchase
Naturally Yours - 8/2/2015

We got our BackJoys to give us support on our soft sofa and they are working well. No more sacro pain. Thank you BackJoy. The portability is great for all our sitting surfaces. They have even been cat approved :)
Best thing since sliced bread
Karen - 8/3/2015

Because of my tailbone and lower back pain, sitting was an agony. But with the Posture Plus, it's like a breeze going through the day. I recommend it to everybody and know about people who have already bought theirs. I've got one for the office and one for home. THANK YOU BACK JOY!
BackJoy seat
Ken - 8/3/2015

This product was exactly what my lower back needed. It helped me sit correctly, and my discomfort went away quickly. Plus, the seat is compact, light, and easy to carry everywhere.
Joy
JJ - 8/4/2015

I am so pleased with this BackJoy. Works good for a 88 year old.