Tech Stress Tip #1 from Dr. ERIK PEPER, PH.D.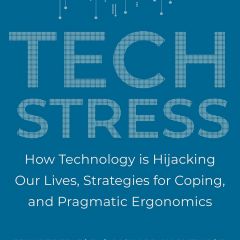 Easy changes to your routine can help you adapt to working and learning remotely
During the COVID-19 pandemic, technology has proved to be a double-edged sword. It's made it possible for us to work and learn remotely to reduce the spread of the virus, but it can also be a pain in the neck ... literally.
Gazing at computer and phone screens too long produces common side effects, including neck, shoulder and back pain and eye strain.
Get up and move                              
About every 20 minutes, stand up and move your body. Consider doing a quick dance to a favorite song or taking a walk around the block (don't forget to wear your face covering and stay six feet from people outside your household). "It will feel silly, yet actively moving is one of the quickest energizers," said Harvey. Stretching and moving will also relax those muscles that you tense constantly when working at a desk, he added.
Think you'll forget to take a break? The free Stretch Break app is a great tool to remind you.
ABOUT TECH STRESS
HOW TECHNOLOGY IS HIJACKING OUR LIVES, STRATEGIES FOR COPING, AND PRAGMATIC ERGONOMICS
By ERIK PEPER, PH.D., RICHARD HARVEY PH.D. and NANCY FAASS MSW MPH
__________
Optimize your home office and ease the transition to remote work with best practices for ergonomic adaptations that reduce pain, tension, eyestrain, and fatigue.

An evolutionary approach to re-envisioning our relationship with technology–and reclaiming health, happiness, and sanity in a plugged-in world.
To read more about the book and purchase your own copy please visit North Atlantic Books and use promo code:  techstress25 for 25% OFF.